E-Commerce / Online Ordering
Our E-Commerce Solutions is a fully customizable online ordering system that we will develop to your specific requirements.
Online Ordering Features
Place orders online in seconds
Multiple levels of user security
Send orders to a manager for approval
Receive e-mail confirmations instantly
Custom Cost Center catalogs available
Generate reports online
Enjoy online order-tracking and verification
Online Ordering Advantages
Save time and money with instant requisitioning and online ordering
Increase control and get instant updates with "e-mail trail" order tracking and verification
Maintain peace of mind with completely secure data, access to purchase history, and inventory management reports
Simplify your purchase/requisition/fulfillment process
Click Here for Online Ordering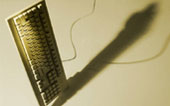 Did You Know ?


"On average, companies spend $100 on paperwork alone each time they make a purchase. Moving those transactions to the Web could slash costs by 90%."
— Fortune Magazine, e-Procurement Analyzed
"E-Procurement reduces a average order processing costs from $100 per order to $15 per order simply by removing administrative processes."
— McKinsey & Company research